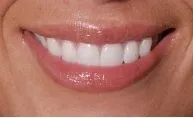 Crowns
Over time, our teeth begin to weaken and become more susceptible to problems such as decay, cracks and discoloration. If you feel your smile isn't what it once was, crowns can help you recover your smile. If your dentist notices that a tooth is decayed or seems weakened/cracked, a crown may be necessary to make sure that there are no additional problems with the tooth. In cases like this, a filling or bonding will not be sufficient to ensure long-lasting health.
Crowns can be made from porcelain, porcelain fused to metal, or a gold. Although our office offers all of these materials, Dr. Lee prefers to use a porcelain fused to metal (PFM) crown whenever possible. This type of crown blends the strength of a metal crown with the beauty of a porcelain crown to create a durable, but aesthetically pleasing restoration. Because the porcelain is able to be easily matched to the color of your natural teeth, it is nearly impossible to distinguish the final crown from your other teeth.
The process of installing a crown usually takes two visits. On the first visit, impressions are taken and your tooth is prepared to make room for the final crown. A local anesthetic is used so you won't feel any discomfort during this process. Afterwards, the impression are sent to one of our laboratories and they will create a custom crown for you; meanwhile, a temporary crown is placed until the final crown is received from the laboratory.
After approximately two weeks, the final crown is ready to be placed. During your second appointment, you receive the final crown and you're ready to eat, brush and floss as normal. With proper care, a crown can be expected to last between 10-15 years, and Dr. Lee offers a limited warranty on his crowns for 5 years.